The Dana Shores Civic Association's leaders and volunteers take a project-oriented approach to bettering Dana Shores and the surrounding area.
We enjoy strong community participation, with well over one hundred neighborhood volunteers engaged in different community projects each year. Our neighbors offer a broad palette of strengths, and there is a place for each person to help shape our future.
Given our broad scope and participation, we rely on three values to bring us together and guide our actions: Collaboration, Execution, and Working for the Majority.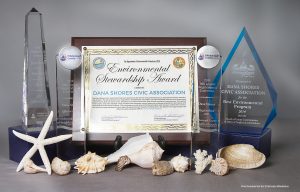 We are fortunate to have great partners in local government, our surrounding communities, and nearby businesses.  Collectively, we offer something for everyone: a sense of community, enhanced safety, respect to our military, increased property values, care for the environment, altruistic endeavors, and historical preservation. Based on our collective efforts in 2014 and 2015, Dana Shores was recognized for the Best Environmental Program from the Hillsborough County Board of County Commissioners and the Office of Neighborhood Relations.  In 2016, we were recognized for the best Neighborhood Communication and, in 2019, we received two awards for the most Effective Board and best  Neighborhood Arts. In 2020, we were selected as the winner of the Southwest District's Environmental Stewardship Award by the Florida Department of Environmental Protection.
Our vision is based on community input and includes initiatives across ten strategic areas.
Physical Improvements
Underground aerial utilities (learn more)
Enhance neighborhood entranceways (learn more)
Coordinate county efforts to repair / update neighborhood infrastructure (learn more)
Quality of Life
Civic-Related Community Service
Assist individual neighbors (learn more)
Strengthen and expand relationships within the community and funding for initiatives (learn more)
Forge strong relationships with surrounding communities, businesses, and government (learn more)