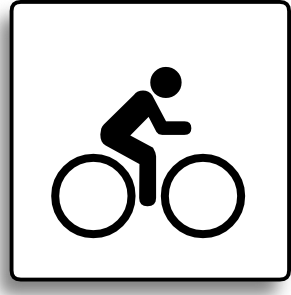 More than $21M has been invested in building the multi-use trail along Florida's Courtney Campbell Scenic Highway, and Dana Shores is the closest neighborhood to the trail. We hope you have the opportunity to take advantage of its unique beauty.
Rails-to-Trails Conservancy TrailLink:
Sign up here to view a map of the Courtney Campbell Trail and other nearby trails and remember to check back periodically. Extensions are under construction on the Clearwater side of the Courtney Campbell Trail, near Cypress Beach, and north of Citrus Park along the Upper Tampa Bay Trail.
Favorite Spots Along the CC Trail: Manatee spotting area roughly one-quarter mile east of the Seazen.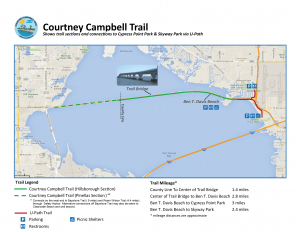 As with any other sport, it's helpful to consider safety and potential issues. We hope the following information is helpful.
Bicycle Lights: We went on the hunt for a bright (but inexpensive) set of lights. Here are our findings. Our Favorite Headlight: Schwinn 1W Head Light [Available for less than $20.] Super bright LED. Easy to install. Offers steady and flash modes. Our Favorite Taillights: Bontrager Flare 3 Rear Bike Light [Best price we found: www.trekbikes.com for $23.99] OR M-Wave Helios 3.3 S LED Taillight [Best price we found: thebicycledepot.com for $9.00] Both are bright red LED lights. Easy to install. Run on AAA batteries. Offer 3 different flashing patterns.
Flat Tire Repair Kit: Ride long enough and most bicyclists promise that you will eventually get a flat tire. As a result, it may be wise to carry a small pump and spare tube with you in case of such an emergency (and to receive training on their proper use).
Helmet Requests: With the opening of the Courtney Campbell bicycle trail, more and more of our residents now own and ride bicycles. Bicycling is great exercise and great fun. And like many activities, bicycling also exposes its riders to some inherent dangers. That's why the civic association has obtained a grant with Florida's Pedestrian and Bicycle Safety Resource Center to offer our residents free Bell bicycle helmets. Although Florida law only requires children under sixteen years of age to wear helmets, the grant allow us to offer helmets to residents of all ages. We have five volunteers certified to fit bicycle helmets, and we have most sizes in stock. Please contact us if you are interested in being fitted for a new helmet.
Protect Your Bicycle from Theft: Bicycle theft is on the rise in Tampa. Although law enforcement recovers more than 50% of stolen bicycles each year, only 5% are returned since there is no way to determine ownership for most recovered bicycles. The Hillsborough County Sheriff's Office offers a bicycle registration program, which helps them return lost or stolen bicycles to their proper owners. Visit the HCSO online for a copy of the registration form and related information. To reduce the risk of theft during your outings, also lock your bike to a bicycle rack or stand. Place the lock through the frame and both wheels.
Safety Tips:
Based on our proximity to the newly opened Courtney Campbell Causeway trail, more and more of our neighborhood families are regularly heading outdoors to walk and bike. We love this trend. We also want everyone to remain safe. In addition to basic rules like looking both ways, you may want to review several other important safety tips with younger (and even older) family members:
Where sidewalks are not provided, WALK on the shoulder AGAINST traffic and BICYCLE on the shoulder WITH traffic.
Bicyclists are allowed to ride on sidewalks but must YIELD to pedestrians and make an audible sound when passing (e.g., announcing "on your left/right", ringing a bell).
By law, pedestrians and bicyclists must exercise DUE CARE when entering a marked crosswalk. In other words, the pedestrian or bicyclist does not always have the right to enter a marked crosswalk.
Watch for cars not only at intersections but also in PARKING LOTS. Expect the unexpected. You never know when a driver will fail to yield.
Because a high percentage of pedestrian and bicyclist fatalities occur during dawn and dusk, the law requires front and rear bicycle LIGHTS at night. Wearing bright or reflective CLOTHING also promotes safety.
If you would like additional safety information for kids (e.g., coloring books, safety video) or would like to attend a 30-minute presentation on bicyclist and pedestrian safety, please contact us with your request. We have educational materials on hand and can work with USF and WalkWise Tampa Bay to schedule a local presentation if requested.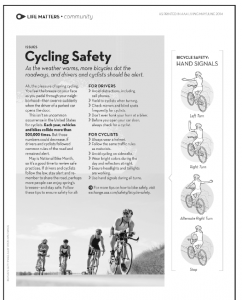 Addressing Problems: Although rare, there have been a few instances when bicyclists riding the Courtney Campbell Causeway Trail and the U-path (between the Grand Hyatt and Cypress Beach) experienced flat tires during their ride due to tacks having been spread along the trail. The tacks penetrated tires regardless of the tread; even mountain bikes were affected. Such acts unfortunately occur with some frequency along bicycle paths throughout the country.
Given our close proximity to the bicycle trails, we're not only adversely affected by these criminal acts, but we are also in a good position to do something about it. Here are four suggestions and requests:
If you witness suspicious behavior and a potential perpetrator, call the Tampa Police Department. Program their non-emergency number into your cell phone (813.231.6130), but if you feel that you are in danger, dial 911. Remember not to approach the individual.
If you are on the trail and hear a clicking noise or if find your bike difficult to peddle or steer, stop to check it out. Please avoid high speeds if your tires are compromised or if you see numerous other bicyclists along the trail whose tires are compromised.
If you are out on the trail and discover that someone has repeated this vicious act, there are three numbers we'd ask you to call. (Of course, you'll need a cell phone with these numbers preprogrammed into it.)
a) Please send us a quick email through this site (or text us at 813.335.8931 and 813.887.4939) letting us know the date and location of the tacks. As soon as one of us picks up the message, we will broadcast it to the neighborhood in hopes of notifying others who might be headed out that day for a bike ride.
b) File a report with the Tampa Police (813.231.6130) so they can prosecute the perpetrator when found.
c) Notify the Florida Department of Transportation (FDOT) at 813.612.3200 so they can use a magnetic roller to clean the trail.
Of course, you may also want to phone a friend to pick you up in order to avoid further damage to your bicycle.