Welcome Captains! Thanks for participating in our annual boat parade! Here are a few reminders and pointers for the parade:
Timing:
6:00pm – Meet in the Bahama Breeze basin
6:30pm – Boat #1 will sound the horn, make one lap for boat line up and then proceed on the route

*We are estimating the total route time will be 2 hours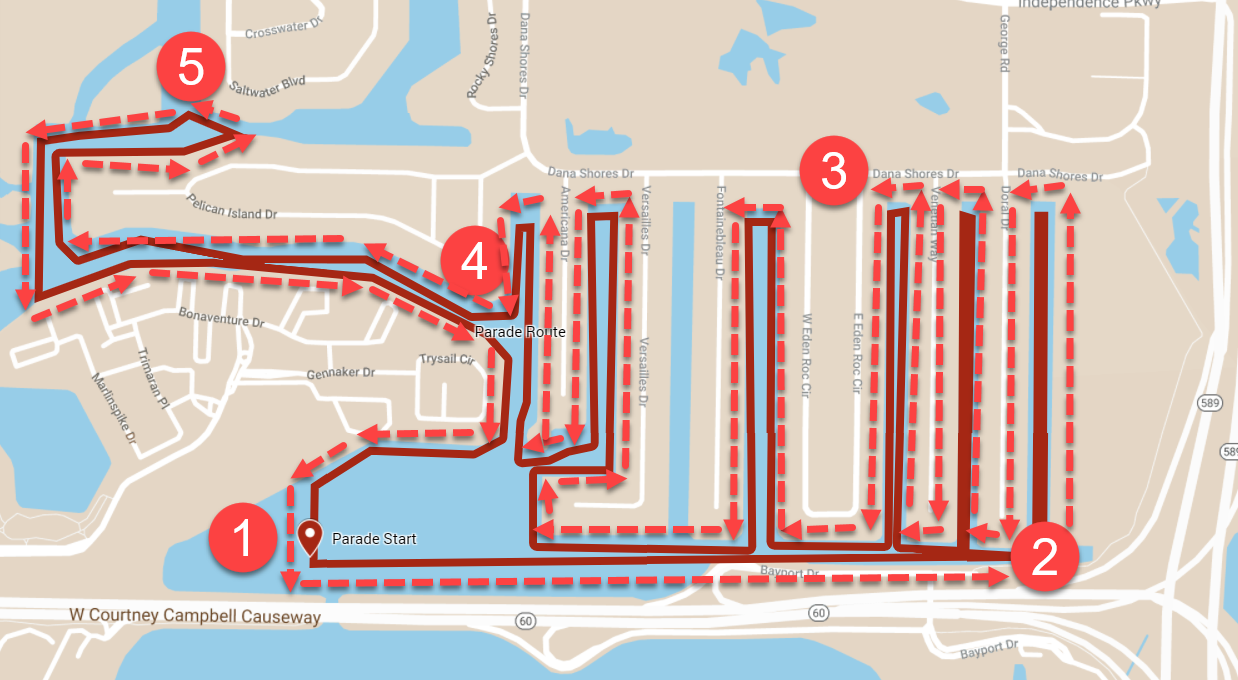 Route:
Start: Bahama Breeze basin to the Doral/wooded land canal closest to the airport (Most boats will not have an issue, but if you have a larger boat, try to stay to the West side when turning around in the first canal. The East side has a mud bottom and is just a bit shallower than the rest of the canal.)
Continue through the Dana Shores canals but skip the Versailles / Fontainebleau canal (it is just too narrow to navigate multiple boats at night)
Continue to the Americana / Pelican canal
Continue to the Pelican Island / Post Rocky Point apartments canal
Continue to the Pelican Island / Mangroves canal
Continue to the Pelican Island / Sweetwater canal (turn before it gets too skinny)
Continue back around Pelican Island
End: the Bahama Breeze basin
Important Notes and Neighborhood Feedback:
Many of our neighbors are having their holiday parties at the same time. We are also having a dock decorating contest at the same time. That said, we are part of their party so a few things to keep in mind:
Please review the guidelines and instructions for the boat parade found here: https://danashores.com/boatparadeguidelines/
Please travel slow so all of the houses can say hi and also vote…slightly faster than idle will be ideal (approx. 4mph)
Please stay together in the group (if you have to take a bathroom break, please try and catch up to the parade)
Please travel to the ends of each canal – the houses are expecting us and we are part of their party and vice versa
Helpful Hints:
Please monitor VHF Channel 69 during the parade to make sure we're all on the same page.
For voting, please display your lit boat number on the starboard side of your boat facing starboard and outward.
Tides (safety harbor station) high tide is at 9:01pm is not dropping very much and the tides continue to rise to their peak at 6:12am so you shouldn't have an issue getting your boat back on the lift that night.
Temperature – estimated to be a low of 59 degrees with a real feel of 57…dress warm.
Battery power/DC to AC converter for your lights – LED lights are obviously recommended and an extra power supply is helpful.
Return your signs after the event at the Holiday Happy Hour or make alternative arrangements by emailing info@danashores.com.