Welcome Captains! Do you want to participate in the Rocky Point Holiday Boat Parade but aren't sure how? It's easier than you may think. Review the information below to get started and don't forget to register.
SAFETY FIRST
Safety must ALWAYS remain each captain's, crew member's, and spectator's priority.
Review, plan ahead for, and remain aware of the weather and tides.
Print out and familiarize yourself with the route ahead of time. The boat parade should not be your first time navigating the canals after dark.
Ensure decorations do not block or limit your view at night.
All parade entries must be motorized and able to maintain forward motion throughout the duration of the parade. Captains must maintain a safe speed and following distance throughout the duration of the parade and may not be intoxicated or otherwise impaired.
To protect our wildlife, participants may not throw beads, candy, or other objects into the water.
Each entry must have proper safety equipment (e.g., fire extinguishers, life jackets, navigational lights, railings, and hand-holds).

CROWD APPEAL
Here are a few tips from the Dana Shores Civic Association on how to deck out your boat easily and create plenty of crowd appeal.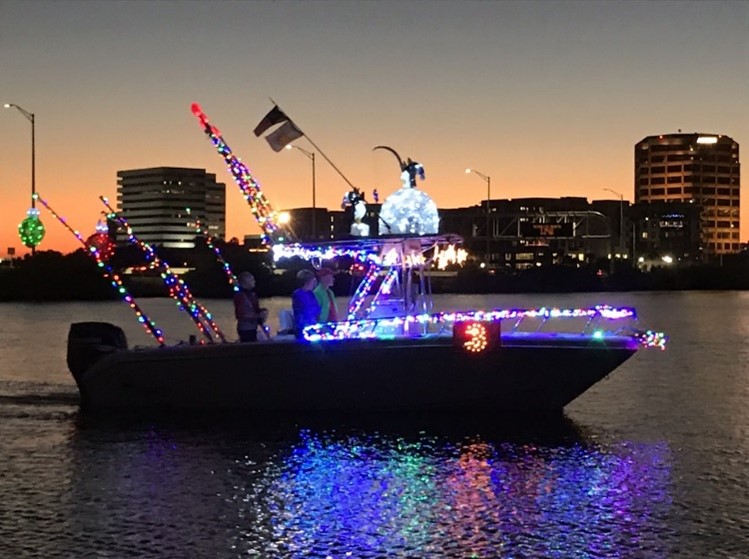 Energizing Lights (

Simple Method

) If you have a cigarette lighter on your boat and are planning to use strands of LED mini lights, it's relatively easy to power them. Inverters are available online for under $30 that plug directly into your cigarette lighter and provide a regular household outlet to plug into. No batteries or generators are necessary, but the combined wattage of the lights you plug in must be below the wattage limits that both your inverter and your cigarette lighter can handle. If you need a little advice on how to calculate this, feel free to contact info@danashores.com, and we can give you a hand.

(

Alternative Lighting Options

) Purchase an inverter that you can connect directly to the boat's battery posts. The clip-on types are most convenient; the screw-down terminal types are a little more secure but require a little more effort to connect. You can get a much larger inverter than you can when hooking to the cigarette lighter, just make sure you keep your motor running once the inverter is on or have only one battery selected for the inverter.

Some people purchase a spare battery (e.g., a deep-cycle, 31-series battery), set it on the deck, and attach the inverter to it. This is necessary for a higher electrical draw and is often associated with the use of traditional incandescent bulbs.

Colors: If you're looking for a certain color of LED lighting, https://www.christmascentral.com/ has plenty of options to choose from with different colored bulbs, wires, etc. Christmas Central also has lights with wide-angle tips, which are even brighter than traditional mini lights.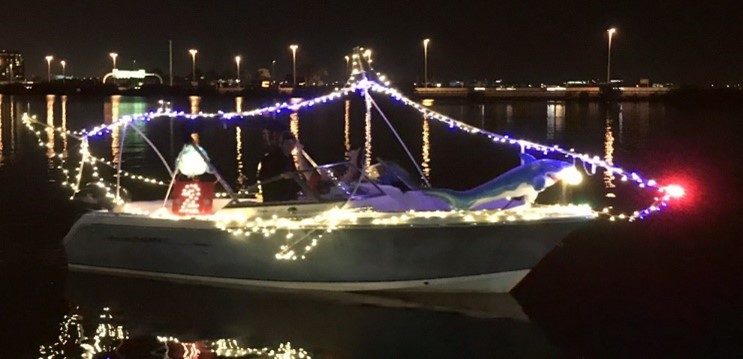 Shapes: If you want to do a shape of some sort that's not readily available, a little imagination and PVC pipe from Home Depot or Lowes can do the trick. ("Baby shark" was made entirely of PVC pipe. You'll likely want to purchase the thick-walled, ¾- to 1-inch PVC pipe to keep it from bending under the weight of the lights.)

Themes: It's fun to pick a theme! We've seen many different themes – The Stanley-Cup-Winning Tampa Bay Lightning, Mickey Mouse, Under the Sea, Santa Hat, and others. Picking one theme and running with it can be fun for the crew and a real crowd pleaser!

Work the crowd! Play some music. Having your crew sing and dance gets viewers on the docks pumped up and excited. Just remember, play to the starboard side since we will be closest to the docks as we pass them on the right. The port side may still be able to hear and see your boat, but the chance to make the big impression is when you pass by onlookers on your starboard side.

Don't forget your number. For voting, please display your lit boat number on the starboard side of your boat facing outward. Please return your lit boat number the day after the parade. Instructions will be included on the back of the sign you receive.

Be creative, be festive, and have fun!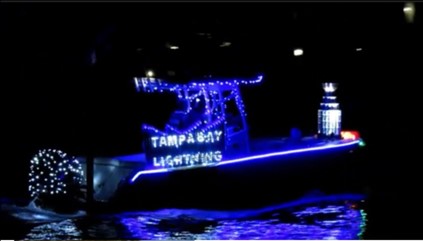 NAVIGATION
Many of our neighbors are having their holiday parties at the same time. We are also having a dock decorating contest at the same time. That said, we are part of their party so a few things to keep in mind:
Travel slowly so neighbors can say hello and vote. A speed slightly faster than idle is ideal (approx. 4 mph).

Please stay together in one group and travel to the ends of each canal to the extent you can safely and comfortably do so. The neighbors at these homes are expecting us and we are part of their party and vice versa. If you require a bathroom break, please try to rejoin the parade when and where you are able to safely do so.

To view the parade route, click here.

Please note, we shortened the published route a few years ago after several boats turned around early the last several years due to concerns regarding canal depth and width as you travel along the northern side of Pelican Island and over near the Cove and Sweetwater. If you'd like to travel up there, you are certainly welcome to do so on your own but after a couple of years of disappointing folks who were expecting to see the full parade travel by their home, we figured this was best to remove from the parade route from both a safety and expectation standpoint.

For similar reasons, the parade does not include the canal between Versailles Drive and Fontainebleau Drive.