Place carts near the edge of the road with at least 3′ of clearance around each cart and with the lid opening toward the street. With the automated trucks now used for garbage pickup, waste disposal drivers are no longer allowed to gather garbage that requires them to exit their vehicles. In general, trash that will not fit inside of your cart will not be picked up.
According to Hillsborough County Solid Waste Department, drivers will take up to 24 bags of plant matter each week, with each bag weighing less than 50 lbs. (or approx. 2 cubic feet of yard waste that is stacked neatly by the curb). Loose yard waste must be less than 4' in length and 6" in diameter. All waste must be located within 10' of the road.
In support of our water quality initiatives, please never dispose of any chemicals, yard waste, or other items into the canals or storm drains.
On non-collection days, Hillsborough County code requires that all garbage and recycling containers be placed out-of-sight on residential property. If you still have old bins or trash cans you no longer need, you may place them inside your GRAY roll cart for disposal. They will be melted and converted into energy at Hillsborough's Solid Waste Energy Recovery Facility.  (If your old trash can does not fit inside the gray cart, place it on the curb on a trash pickup day with a large sign asking for it to be taken away. If the driver misses your can, call Republic Services at 265.0292. They should send a driver back to your address.)
Disabled and Limited Mobility Customers: Customers who are physically unable to place their garbage or recycling roll carts curbside for collection may apply to the Public Works Department, Solid Waste Management Division for disability backdoor service. Residents who qualify through the application process will receive the backdoor service at no charge.
Glass Left at Pick-Up Site: From time to time, holes form in the bottoms of the recycling trucks' hoppers. When this occurs, small piles of crushed glass are left in front of residents' homes. If you find evidence of such an event, please take a clear picture of the pile as soon as possible and email it along with the address of where it was taken to info@danashores.com.  Photographic evidence has helped us convince Republic Services several times to return with a street sweeper and repair their trucks.
Missed Pick-Up and Bin Requests: Access the county website for trash and recycling assistance.
Senior Citizen Discount: Hillsborough County's Public Utilities Department offers a 25% senior citizen's discount for solid waste disposal to residential customers.
Swap-Out Option:  Garbage and recycling bins come in two sizes: 65-gallon carts and 35-gallon carts. Residents who would like to exchange a roll cart for a different size may contact Republic Services at 813.265.0292. Charges may apply.
Today, many of our recycling bins hold more than the trash can on pick-up day. Unfortunately, we've also run into a snag with this program and the county needs our help.
Each week, large numbers of unrecyclable items find their way into recycling bins. These items cause equipment damage and contaminate good, quality recyclables. Plastic grocery bags, for instance, jam equipment at the recycling plant and require expensive repairs. Although it seems like plastic bags, used paper towels, wire, and Styrofoam could be recycled, they are problematic and threaten the viability of our recycling program.
Please commit these 6 words to memory: CLEAN CANS, PLASTIC BOTTLES, PAPER & CARDBOARD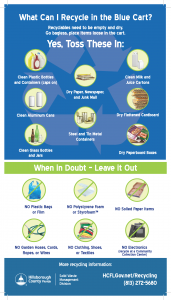 Click here to learn more.
Many folks focus their environmental efforts on recycling, but proper disposal of all material is important to protecting the environment.
Bulky/Oversized Items (e.g., Appliances and Furniture).  Do you have oversize materials that won't fit in your trash can or hazardous items that shouldn't? The Northwest County Community Collection Center is located within a 10 – 15 minute drive from Dana Shores. Remember to verify their operating hours and to take a copy of your driver's license showing county residency and current tax bill.
Don't want to drive the 15 minutes or item is too large or bulky to transport? For a small fee, you can also schedule an at-home oversized item pickup.
Cooking Oil. Reduce the risk of clogged drainage pipes and sewage spills into the bay. Cooking oil poured down the drain gels and solidifies into thick layers inside drainpipes, sewage pipelines, and sewage lift stations, resulting in constricted water flow, backed up residential plumbing, malfunctions at lift station pumps, and sewage spills. To help prevent these issues, residents are asked to collect cooking oils (e.g., grease/lard, canola oil, peanut oil, vegetable oil, corn oil, olive oil) in a sturdy plastic container with a cap and drop the containers off at a collection point. We have a drop-off box available 24 hours a day, seven days a week at the Town 'N Country Pump Station, 5505 Town 'N Country Boulevard (approx. 1 block north of Hillsborough Avenue near U-Save). Residents may also pick up clean, empty containers from this location.
Electronics and Computer Equipment. Electronics often contain lead, mercury, and other toxic chemicals. With Urban E Recycling, you may schedule free home-office pickup and request assistance with proper destruction of sensitive data on your hard drives. If you have other intact equipment that does not qualify for pick-up (e.g., televisions), you may drop these items off at the Northwest County Community Collection Center located about 15 minutes away at 8001 W. Linebaugh Avenue. Click here for hours of operation, required identification, the list of acceptable items, and other information.  (Small bathroom and kitchen appliances such as toasters, crock pots, blenders, hair dryers, and curling irons may be discarded in your gray garbage cart.)
Fluorescent Bulbs. Did you know that fluorescent bulbs have 10x the energy efficiency of incandescent bulbs? Although that's great for the environment, they also contain mercury vapor (a neurotoxin) that must be disposed of properly. You may take used bulbs to a county collection center (see Household Chemicals below). Home Depot also offers a CFL recycling program for unbroken bulbs (but not tubes). Locate the orange recycling container near their returns desk.
Household Chemicals.  Please safely dispose of household chemicals so they do not leach into the soil and aquifer.  The Household Hazardous Waste Facility at 9805 N. Sheldon Road accepts aerosols, fertilizers, fuel, varnish, paint, pool chemicals, and propane tanks. Learn hours of operation, required identification, the complete list of acceptable items, and other information here.   
Medications / Prescriptions / Pills from Your Pet's Veterinarian. Safely dispose of unwanted medications and keep drugs out of the wrong hands. Sewage plants cannot remove medications flushed down the toilet, and studies now show that 80% of U.S. streams contain small amounts of human medicine. This adversely affects fish and other aquatic animals. Permanent prescription drug drop-boxes are located at the four Hillsborough County Sheriff's Offices. The closest one is District 3, 7202 Gunn Highway. Drop-off boxes are available 24 hours a day, seven days a week. You may also ask if your pharmacy will accept old medications.
Paint. Paint may be disposed of at the Northwest County Community Collection Center on Linebaugh Avenue or the Household Hazardous Waste Facility on Sheldon Road. To learn more, click here.
Sensitive Documents. Help protect your identity by professionally destroying sensitive documents containing personal information. WFTS-TV ABC Action News, with support from the Hillsborough County Sheriff's Office and Westfield Mall, host an annual paper shred-a-thon at the Citrus Park Shopping Center in the late spring/summer timeframe. The event is FREE and open to the public. The local press typically advertises the event. If you are interested in avoiding the lines for this event and sharing costs for a coordinated effort among neighborhood residents, please let us know.
Styrofoam. Packing materials may be disposed of in the gray garbage cart or dropped off for recycling at the Dart Container Corp, 4610 Airport Road in Plant City. Styrofoam food trays and egg cartons may be recycled at most local supermarkets in special bins.
Yard Waste. Please never dispose of yard waste, palm fronds, leaves, and similar matter into the canals or storm drains, which lead directly into the canals. Unlike rivers, our canals are considered low flow systems. Low flow systems are easily fouled by biodegradables and other runoff. A little yard waste from multiple neighbors adds nitrogen, kills fish, and accumulates as silt. In addition to the immediate downsides, over time accumulated silt reduces clearance for boats and lowers property values, as can be seen around areas of Sweetwater. This silt is extremely costly to remove and the expense of dredging would fall back onto our residents. It is not taxpayer funded. To avoid most if not all of these issues, please collect and dispose of all yard waste at the curb. (Read about this under The Basics at the top of this page.)  Excess amounts of yard waste may be hauled to the facility on Linebaugh Avenue (Click here to learn more.)