We could hear some of the children watching the parade from along the canal calling, "It's Santa! Look, it's Santa. Is that how he delivers his presents to us?"
Our boat parade and decorating contests provide Dana Shores residents a very special Florida-holiday season. We'd like to thank all who participate from Dana Shores and neighboring communities by boat, on land, and behind the scenes for the great turnout year after year. Your creative decorations, festive parties, and organizational efforts bring joy to many.
Special thanks to our sponsors and congratulations go to our annual contest winners.
2021 Winners
Boat Parade
#1 – The Lightbody Family (Pelican Island). Congratulations to the Lightbody Family for their second win in a row!  #2 – The Heitler Family (E. Eden Roc Circle). Congratulations to the Heitler family, who also did a great job leading the parade this year!
Dock Decorating Contest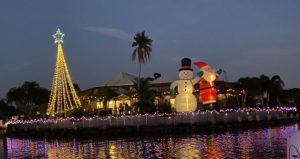 #1 – The Nappi Family (Americana Drive). Congratulations to Florence and Alex, first-time entries who provided a display larger than life for all to see!
#2 –  Fran Spiro (Venetian Way). Congratulations and thank you for making the holidays bright and full of cheer each year!
Yard Decorating Contest

#1 – The Casatelli/Anderson Family (Versailles Drive). Thank you for building a magical Christmas wonderland for both children and adults!
#2 – The Fewer and Szirtes/Walker Families (Versailles Drive). This is our first ever multi-yard entry, bringing two yards and families together in the truest spirit of the season!
Select Prior-Year Winners
CONGRATULATIONS TO ALL!