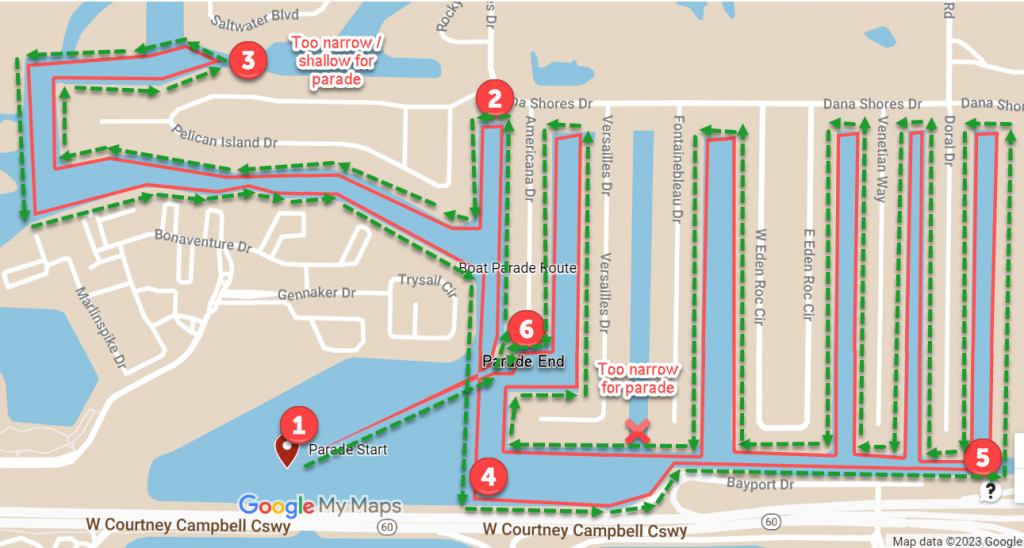 6:00 pm – Boats will meet in the Bahama Breeze basin
6:30 pm – Boat #1 will sound the horn, make one lap while boats line up, and then proceed on the route
We estimate a total route time of 2 hours
Route:
START: Bahama Breeze basin to the Pelican Island / western side of Americana canal
Continue to Pelican Island / Post Rocky Point apartments canal
Continue to the Pelican Island / Mangroves canal
Continue to the Pelican Island / Sweetwater canal

Continue back around Pelican Island

Travel south towards Courtney Campbell Causeway
Continue to Doral/wooded land canal closest to the airport (Most boats will not have an issue, but if you have a larger boat, try to stay to the West side when turning around in the first canal. The East side has a mud bottom and is just a bit shallower than the rest of the canals.)
Continue through the Dana Shores canals but skip the Versailles / Fontainebleau canal (it is too narrow to navigate multiple boats at night)
Continue to the Americana / Versailles canal
END: Due to limited dock space at the private Captain's After Party, please drop off your boat and then meet up at the after party shortly thereafter. Location details should have been provided when you pick up your lighted sign. If you have additional questions, please email info@danashores.com.