Overall water quality in Tampa Bay is as good as it was during the 1950s despite 400% population growth in watershed areas. Seagrasses are also returning to the bay at a record pace of 660 acres per year. Unfortunately, Old Tampa Bay and the waters surrounding Dana Shores are not enjoying the same success as the rest of the bay.
The water was what attracted many of us to this community, and its quality is important to us and the marine life it supports. Fortunately, there are several easy but highly impactful steps we can all take to help restore our water quality, keep pollutants down, and maintain boat clearance. Please help out by doing your part.
Dana Shores also provides many homeowners with relatively unique property rights that allow us to address concerns, such as crab traps, throughout most of our area. This is explained in the last tab.
Unlike most rivers, our canals are considered low-flow systems, and low-flow systems are easily fouled by biodegradable materials

.
A little yard waste from multiple neighbors adds nitrogen, kills fish, and accumulates as silt. Over time, accumulated silt also reduces clearance for boats and lowers property values, as can be seen around neighboring communities. The only way to remove the silt is through dredging. Not only is dredging expensive, but the cost is also assessed back to local residents. The county does not pick up the cost. Tannins from leaves and bark also turn the water a dark brown color. The darker the water, the more light it blocks and the less likely our canals will support seagrass and small marine life. To help us avoid many of these issues, please collect and dispose of all yard waste, palm fronds, leaves, acorns, and similar matter at the curb.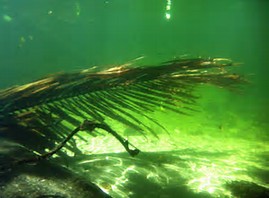 Most Dana Shores and Pelican Island lawns are cared for by a resident-owned company, Southern Florida Landscaping. Bart Butler, president and owner, supports our water quality initiatives and expects his team to keep all yard waste from flying into canals or going down storm drains. If you see a member of his team improperly managing or disposing of yard waste, Bart asks that you please take a picture or video of the incident so that he may address the problem. You may send pictures/videos to Bart at southernflorida@live.com or contact him directly at 813-486-3727.
Landscaping along the bike path to the south of Dana Shores (Bayport Drive) is maintained by Rainmaker. At least one resident has provided video showing crew members blowing debris into the canal, and this information allowed us to immediately address the issue. If you witness such an event, please take video and email this info@danashores.com so we may take appropriate follow-up action.
It's important to know
everything that goes into our storm drains pours directly into our canals.
Our storm drains do not connect to a sewer system. For that reason, we must work together to keep run-off containing chemicals, debris, and other matter from reaching our storm drains. Please educate contractors doing work in our area. We have seen crew members wash paint, concrete, and other materials into our waterways.
If a contractor ignores your request to keep our waterways clean, you may report water pollution using your Smartphone. Snap a picture of the person committing the act and email it along with the location to reportpollution@hillsboroughcounty.org. Hillsborough County representatives will follow up on your request. If you believe the contaminate to be oil, fuel, or another hazardous material, please call the Florida Office of Emergency Response at 800-320-0519.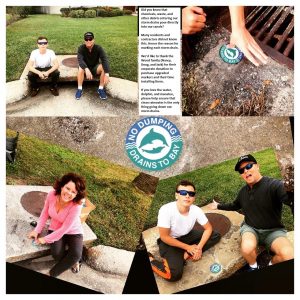 Every neighborhood probably asks residents to clean up doggie poop, here it is especially important.
Studies show that two to three days of pet waste from just 100 dogs in a 20-square-mile watershed can contribute enough bacteria to make swimming unsafe. In comparison, Dana Shores and Pelican Island homeowners own an estimated 166 dogs, and our communities cover a .3 square-mile area.
The simple act of picking up your dog's poop on your walks and at least twice a week from your yard (preferably on days before your lawn is watered) keep our waters safer for fish, marine life, and family members.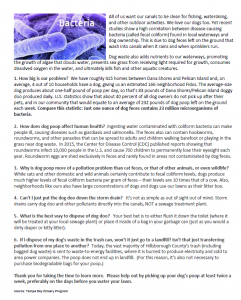 Nitrogen run-off from improper fertilization is one of the biggest challenges to water quality, challenges for seagrass, and threats to sea life.
If you hire a company to fertilize your lawn, look for an Easter-egg-looking sticker on the side of the truck showing the company is properly trained and certified in lawn fertilization best management practices (BMPs).
They are required by law to have this seal showing proper training and compliance.
If you fertilize the lawn on your own, local law also requires that you follow the BMPs.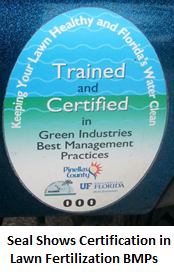 Please report oil, fuel, and hazardous spills in Florida waters to 800-320-0519.
Homeowners may place a few crab traps in Dana Shores pursuant to Florida law. In 2016, however, we received numerous complaints regarding the placement of commercial crab traps by non-residents throughout neighborhood canals. In response, Dana Shores Civic Association board members worked with Florida Fish and Wildlife Conservation Commission (FWC) officers to understand our community's rights and address neighbors' concerns. Following these actions, we also worked with FWC to summarize what we learned.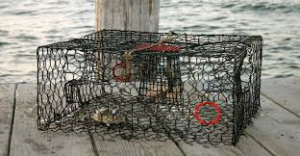 What Concerns Were Raised about the Crab Traps?
Placement of the traps caused several homeowners concern over safety and liability. We received multiple reports from residents whose boat propellers became entangled in the traps. In one of the more serious cases, a single boat suffered nearly $20,000 of damage. Concerns were raised over crabbers' nighttime activity. Several property owners' rights were also infringed upon when traps were placed behind their boat lifts, interfering with safe navigation into and out of the waterways.
What Rights Do the Crab Trappers Have?
Commercial blue crab harvesters may place their traps in open waters and navigable channels if relevant statutes are met. Among other things, traps must be placed outside of USCG marked channels (typically identified by red/green markers), buoys must be properly marked, and traps may not be placed on private property. Interference with a properly placed crab trap (e.g., removing the trap, relocating the trap, and removing crabs) carries penalties of up to five years in jail and $5,000 in fines.
What Rights do Dana Shores Homeowners Have?
Here is another reason to love Dana Shores. Our community is uniquely platted, and most homeowners own the submerged lands behind their homes about halfway into the canal. Hillsborough County possesses an easement to these canals for drainage purposes and federal law requires open navigation of our waterways. Dana Shores homeowners do, however, have the right to trespass non-residents who disturb or place items (such as crab traps) directly onto their submerged lands. Individuals who are trespassed will receive an initial warning. Repeat violations could result in fines up to $500, charges of a second-degree misdemeanor, arrest, and up to 30 days in jail.
What Does This Mean?
The civic association notified FWC of the complaints we received and, in turn, FWC worked with the crabbers to educate them and have them remove traps from resident-owned lands. Traps may remain in the basin at Bahama Breeze and along the south side of the channel that runs east-west along the Courtney Campbell Causeway. Boaters should be aware of this hazard, especially when navigating at night.
If trappers return to our neighborhood properties, we will again ask FWC to assist us with their removal and to provide a notice of trespass if appropriate. If you notice widespread issues, you may contact the Dana Shores Civic Association at info@danashores.com for assistance and to provide information that can help speed up the process (e.g., any pictures you can safely take showing the crab boat's FL numbers and days of the week/times of day the trappers visit their traps). Now that we know more, we should be able to act swiftly should the issue recur.
For related issues affecting single residents, please call FWC at 813-558-5050 and press #7 to reach an FWC dispatcher. Please do not harass the trappers or their traps, as there can be serious consequences. Instead, explain to FWC that crabbers are placing traps on private property in canals and request help. Because of the unique platting of our neighborhood, you will likely need to share some of the above information as context.
There are many good, responsible captains navigating our canals, and there are exceptions too. It's those few exceptions that cause our neighborhood some heartburn. Excessive speed can lead to accidents, close calls around blind corners, harm to manatees, and property damage.
In general, we have three groups of people who operate within our canals: those accessing our waterways via the causeway, those who live nearby, and customers of the jet ski and boat rental facility located near the Westin. The Dana Shores Civic Association and its representatives have been working closely with the owners and operators of the rental facility to develop a partnership. Given all that we have in common, this has been an easy partnership to establish. We are both serous about eliminating speeding in the canals, and we both recognize the related issues. Together, we want a highly proactive method of reducing speeding concerns and a highly responsive method of addressing exceptions.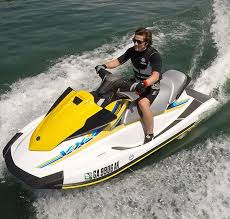 We've established a partnership that relies on reporting from our community volunteers and training and enforcement from the rental operators. Our volunteers are expected to provide accurate descriptions of watercraft that violate wake zones, report incidents immediately and without discrimination to any class, follow agreed upon practices associated with this program, and maintain a collaborative working relationship with the rental facility. In return, rental operators are taking extraordinary efforts to educate renters regarding all local speed zones, requiring renters sign a related policy, fining violators, and (depending on the seriousness of the offense) immediately revoking an operator's driving privileges or placing the operator on a no-repeat-rental list.
The success of this program relies heavily upon our volunteers, the level of trust they establish with the owners of the rental facility, and keeping our volunteers to a manageable number while providing adequate geographic coverage. Volunteers must, therefore, participate in a joint training and must be approved by both the civic association and the rental facility to be involved in this program. You may email us at info@danashores.com if you would like to learn more.