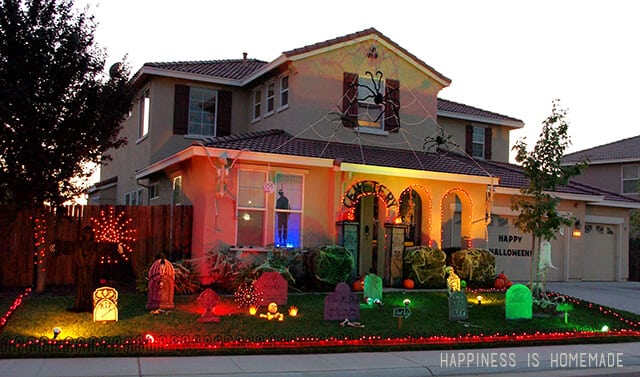 Guidelines and Instructions
The Halloween Yard Decorating Contest will be held this season with the following dates:
Entry Application Period: 10/1- 10/30
Judging & Community Vote Period: 10/31- 6 p.m. on 11/01
Winners Announced: 7:30 p.m. on 11/01 via the Dana Shores Civic Association Email Distribution List (sign up here) and neighbors-only Facebook group (request to join here).
Please read these guidelines and instructions and if you have any questions, please email info@danashores.com.
Participation is open to all residents in Dana Shores and Pelican Island.
Entry is free, no cost or fees apply.
Neighborhood board members are not eligible to participate.
Entry Applications must be received no later than October 30th.
Contest is for exterior decorations only, including decorations in windows that are visible from the exterior. Judging will be done from outside the residence only.
Judging will be based on "curb appeal" as viewed from the street only. Therefore only those decorations located on the street side of the property will be judged (corner lots will be judged from both streets). Judges will not enter the property to view back or side yards.
Participants agree to have one or more photos of their decorated residence exterior posted on DanaShores.com, the community Facebook page, and/or other marketing materials for the Dana Shores Civic Association as well as in the Shore Lines newsletter. Participant agrees that there will be no compensation of any kind for said posting or publication.
Judging criteria will include a) Unique design and creative use of lights and decorations; b) Storyline or theme; c) Display and placement of decorations, animated objects, etc.; and d) Overall presentation.
Voting will occur virtually between October 31st and 6:00 p.m. on November 1st.
Participants should ensure that all lights, animations, and decorations are in place and activated from 6:00pm – 9:00pm on the nights leading up to Halloween.
Participants must also submit a photo or video of their decorated yard to info@danashores.com by October 30th to be included in the neighborhood email displaying all contest entries.
Winners will be announced via email and on Facebook on November 1st at 7:30 p.m. and featured in the December issue of the Shore Lines.
Be creative, be festive, and have fun!