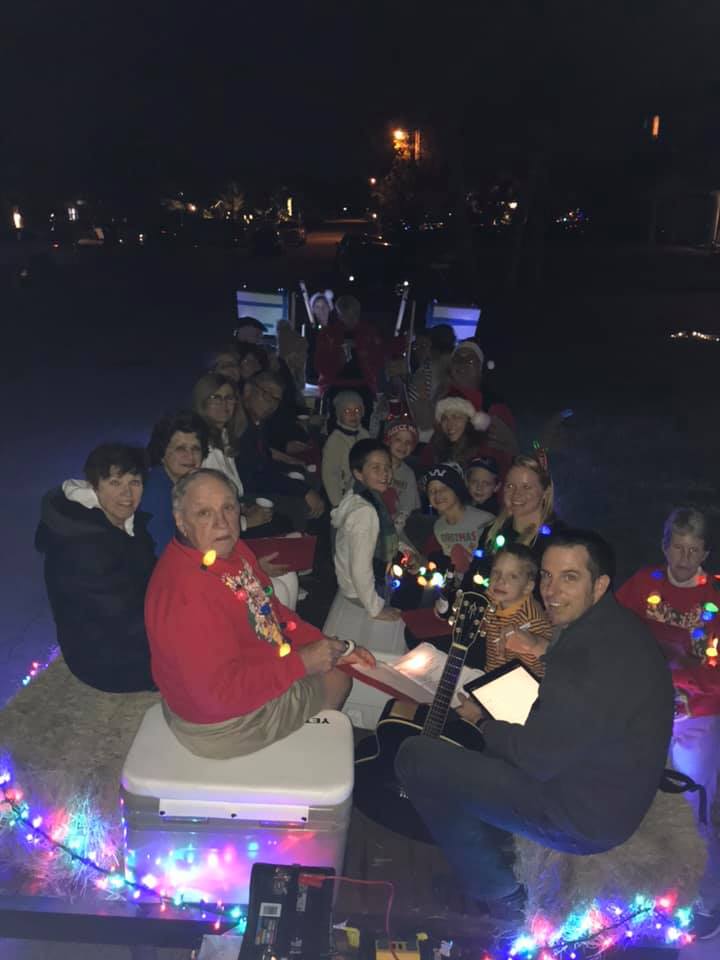 The Dana Shores/Pelican Island caroling tradition began in 2015 out of the bed of a pick-up truck. By 2017, we had grown to twenty-four carolers. In 2018, we grew our carolers again by nearly fifty percent, and the number has continued to grow each year since.
The best part of the event for many is the children. Many recall an instance along Dana Shores Drive. As the adults climbed back onboard the hayride after singing carols to an elderly neighbor, four young boys rushed back to the gentleman to wish him the merriest of Christmases one more time. His eyes filled with joy, and everyone became teary eyed. Although fleeting, it was the sweetest of moments.
We continue to have a strong core group of folks who orchestrate the event – getting the trailer and hay, coordinating the stops, decorating the trailer, helping folks on and off the sleigh, and hosting the before and after party. We also have talented musicians in the neighborhood who organize our musical program and lead the group on the guitar.
For the last several years, every seat has been taken on the trailer and in the truck. We have also had an entourage of cars, golf carts, and bicyclists following the sleigh.
At many of the homes we visit, neighbors from adjacent homes come outside and enjoy the music as well. Many of the homes we visit provided snacks to our carolers and invite their neighbors over to enjoy the festivities. Each year, this event brings a special night of joy and holiday cheer.
If you would like to join us as we travel through the neighborhood, can offer up additional transportation options, or would like to request we visit your household, please email us at info@danashores.com.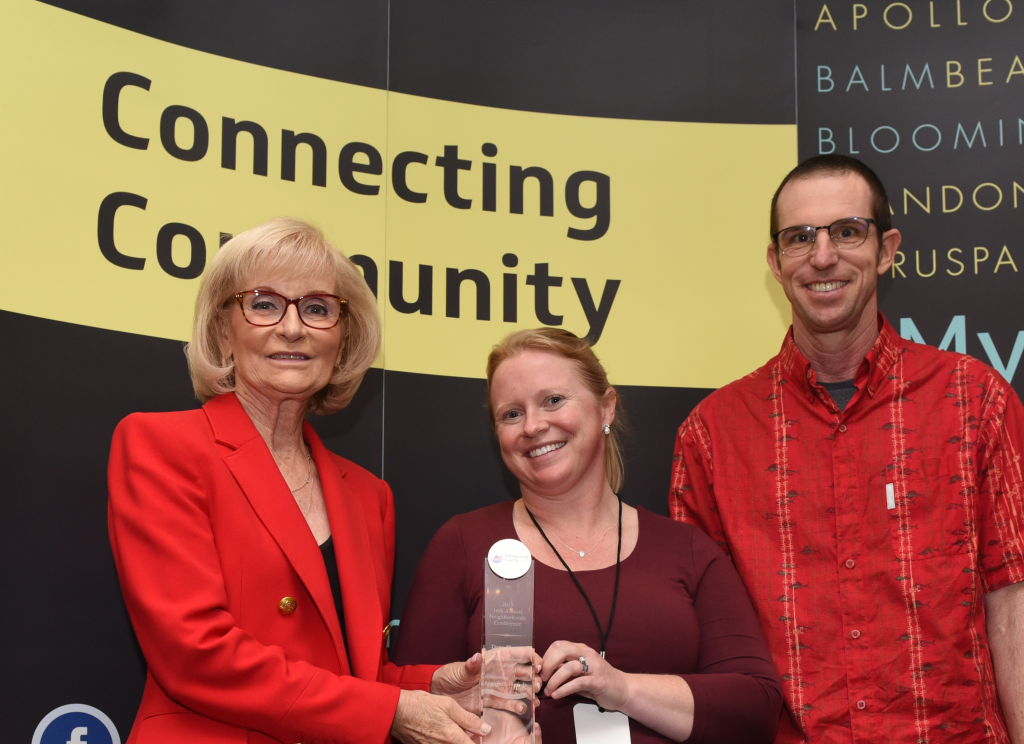 The Dana Shores Civic Association (DSCA) received two awards at the 16th annual Neighborhoods Conference on Saturday, November 2, 2019. DSCA was recognized for Most Effective Neighborhood Board among small and mid-sized communities based on our undergrounding efforts and for best Neighborhood Arts, highlighting our caroling hayride. The above picture shows Commissioner Sandy Murman (left) presenting the Arts award to Holly Simmons, VP of the Dana Shores Civic Association, and Evan LeFloch, resident guitarist and caroling lead.