The Women's Club brings Dana Shores, Pelican Island, and nearby residents together for social, philanthropic, historical, and preservation purposes.
Social Support and Networking
It is rare to find such a close-knit community as ours. The Women's Club takes several steps to foster good relationships among the residents of both Dana Shores and Pelican Island:
Publish an annual telephone and address directory for all members.
Coordinate and host numerous social events for residents throughout the year, including TGIFs at Rocky Point Golf Course, seasonal neighborhood parties and boutiques, and more. In 2017, we co-hosted Casino Night, our first event with Sweetwater. We also brought children's events back to Dana Shores for Halloween and Easter and kicked-off a series of activity-based social events, such as ballroom dancing lessons, a self-defense course, a flower-arranging class, and a Family Fun Day at Skyway Park.
Welcome new neighbors.
Decorate entranceways.
Provide a helping hand to neighbors during difficult times.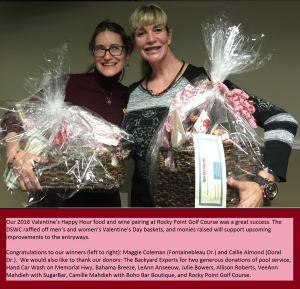 Philanthropic Efforts
We support responsible causes that hold special meaning for our residents. Given the size and talents of our neighborhood, we have many opportunities to help out. Together, we can make a significant difference through teen volunteer-service projects, various community drives, and select donations.
Historical and Preservation Work
Dana Shores Drive was once a part of Memorial Highway. The older laurel oaks lining this drive were planted in the 1920s as a memorial to local soldiers who did not return from World War I, and this memory has been kept alive by our civic association with additional neighborhood-led tree plantings over the years.
The women's club has responsibility for maintaining the entryways along this drive. Since 2014, we have also partnered with the civic association to implement a number of improvements along Dana Shores Drive.